Download our free brochure and have all information easily accessible!
The Titan Pool Heater models
Energy Saving Performance!
Oversized air heat collectors matched with industry leading designed water heat exchangers are utilized to transfer FREE HEAT, present in outdoor air, to warm your pool water.
The high efficiency compressor and fan motor require only a fraction of electricity to operate, compared to the heat energy that is transferred from the air to the water.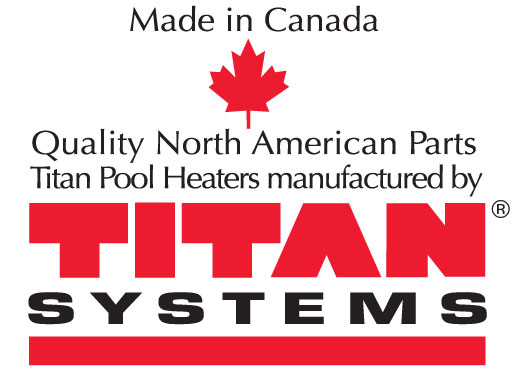 Advantages
 High efficiency performance

 Quiet operation

 Set and forget digital controls!

 Low water flow safety cut-off switch

 Pollution-free operation

 Simple installation
Our Models
| | | |
| --- | --- | --- |
| Model | Capacity | Sizing** |
| TAG 1 | 50,000 BTU/Hr | 350 sq. ft. |
| TAG 2 | 65,000 BTU/Hr | 450 sq. ft. |
| Ti I | 80,0000 BTU/Hr | 512 sq. ft. |
| Ti II | 96,000 BTU/Hr | 648 sq. ft. |
| Ti III | 120,000 BTU/Hr | 800 sq. ft. |
| Ti IV | 140,000 BTU/Hr | 875 sq. ft. |
* For reference only / Performance varies with operating conditions /  Solar blanket strongly recommended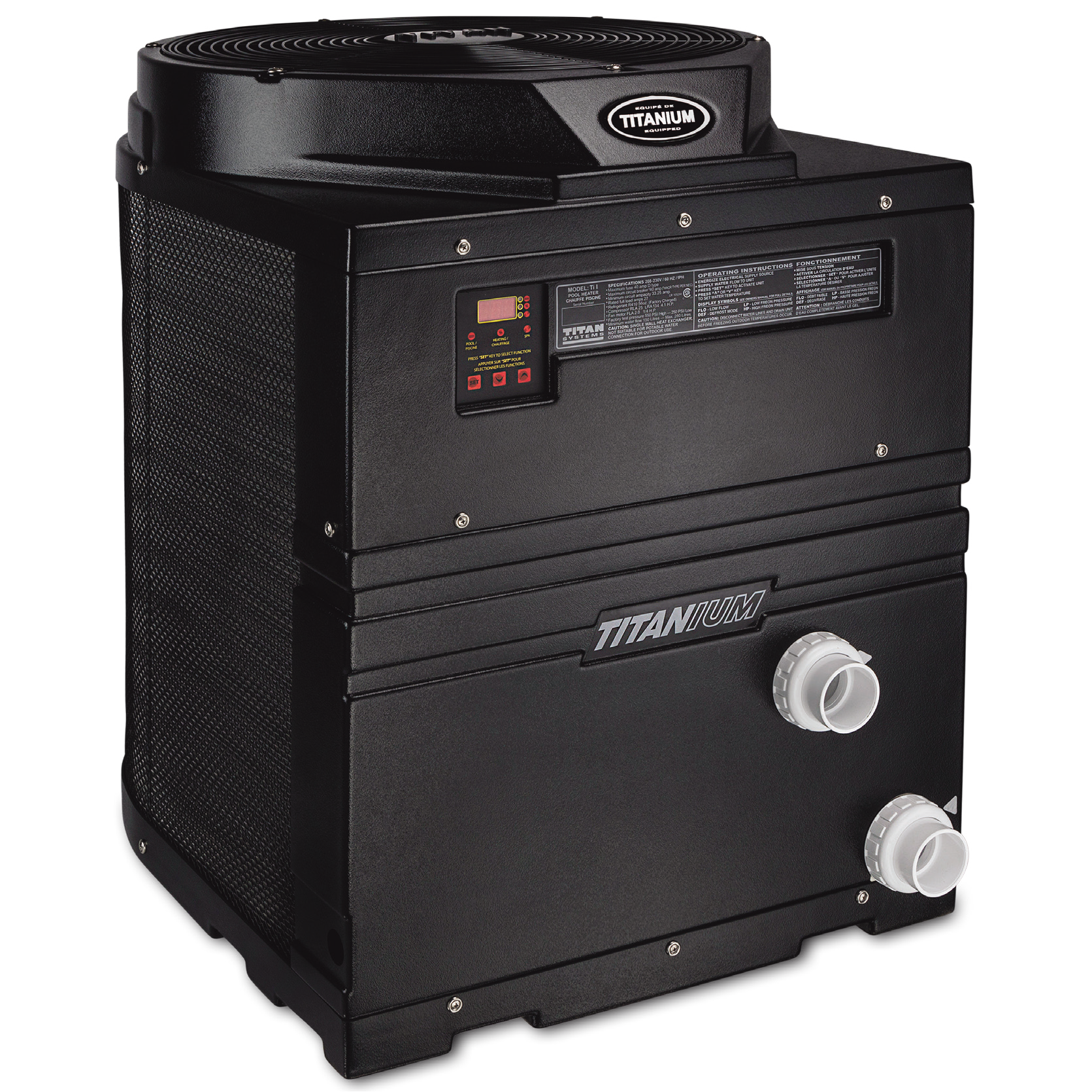 Tech Specs.
Model
TAG1
TAG2
Ti I
Ti II
Ti III
Ti IV
C.O.P
6.0
6.0
6.1
6.0
6.0
5.9
Heat capacity

(BTU/Hr.)

50,000
65,000
80,000
96,000
120,000
137,000
Power supply


(same for all models)

AC208/230V /60HZ/1PH
Heat exchanger


(same for all models)

TITANIUM

Flow rate (L/GPM)

115/30 – 287/75
Water connections
1.5″
1.5″
2″
2″
2″
2″
Dimensions


(H" x L" x W")

25x34x27
29 x 43 x 27
34 x 34 x 27
41 x 34 x 27
41 x 34 x 27
44 x 39 x 35

Weight

150 lb68 kg/
175 lb/79 kg
185 lb/84 kg
220 lb/100 kg
260 lb/118 kg
290 lb/132 kg
   All our models are protected with a non-corrosive, weather resistant plastic enclosure.
 Digital controller

Whether you are heating your pool or spa,

Pool Heaters are designed with simplicity in mind. Our digital controller allows you to change any settings with ease.
Adjust your desired temperature settings;
View the current temperature of your pool / spa;
Access the diagnostics section;
Set, forget and enjoy your heated swimming pool!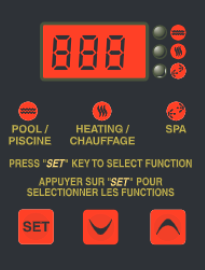 Strong warranties on all our products! 
Our pool heaters are warranted to be free of manufacturing defects in workmanship & materials for two (2) full years beginning from the date of purchase.
In addition, the COMPRESSOR is warranted against manufacturing defects for FIVE (5) years from the date of purchase.
The heat exchanger TITANIUM TUBE has a LIFETIME chemical corrosion warranty.
*See manual for complete details.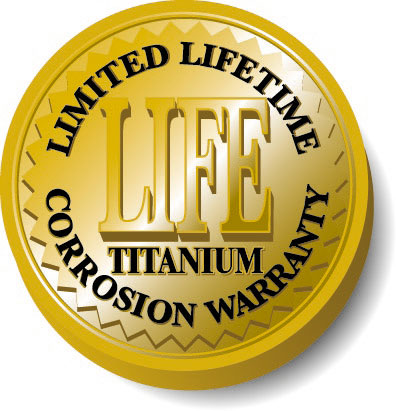 How does our Pool Heater work?
Our pool heaters were designed to perform two (2) heat exchanges to continuously keep you pool / spa at the desired temperature while saving you money!
Heat in the air to refrigerant
Refrigerant heat to pool water
Just as an air conditionner collects heat from the interior of the home and rejects that heat to the outside, our system collects heat from the outside air and rejects it into the pool.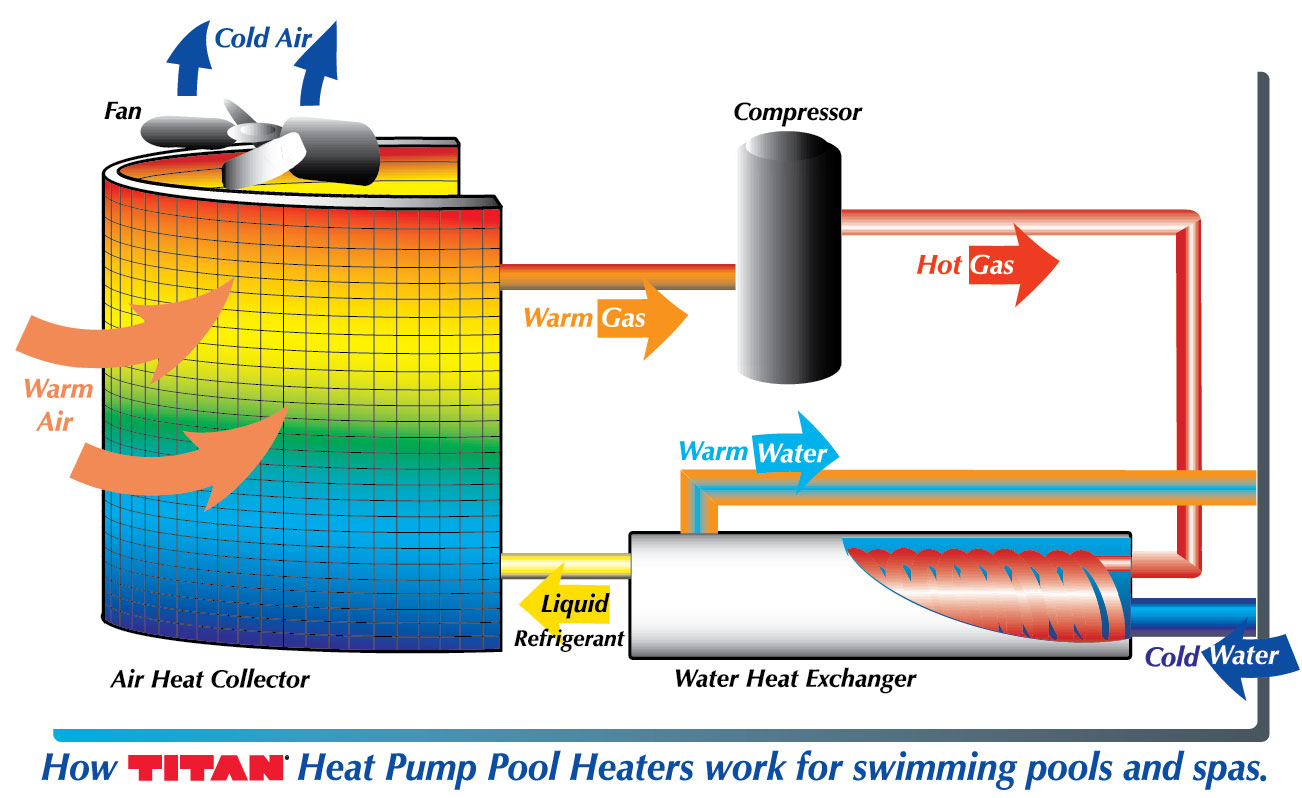 Understand the complete Heat Exchange Process
| | |
| --- | --- |
| 1. | During the operation, air is drawn through the heat collector by the fan. The delicate aluminum fins absorb heat from the air and transfer it to the liquid refrigerant passing through the copper coils within the fins. |
| 2. | As heat is absorbed, the liquid "boils" becoming gas. This is called "heat of evaporation". |
| 3. | The compressor draws in the warm gas and compresses it, elevating its temperature considerably. |
| 4. | The hot gas discharges from the compressor to the condenser coil inside the heat exchanger whereby heat is transferred to the pool water. The temperature of the water is increased as the heat in the gas is depleted. |
| | The compressor and fan require only a fraction of electricity to operate, compared to the heat energy that is transfered from the air to the water. |
| 5. | As the gas cools, it changes to a liquid state and returns to the heat collector to absorb more heat, continuing the heating process. |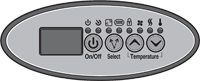 Models prior to May 2012. (oval control pannel)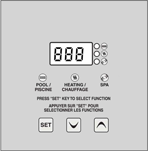 Models from May 2012 – now. (square control pannel)
Proudly serving the North American market since 1987!